Edmonton Comic & Entertainment Expo (Edmonton Expo) attracts record attendance of 47,000
A growing 'geek' movement, additional third day (

Friday

), expanded exhibition space, and starry line-up result in record-breaking numbers exceeding pre-event expectations (35,000)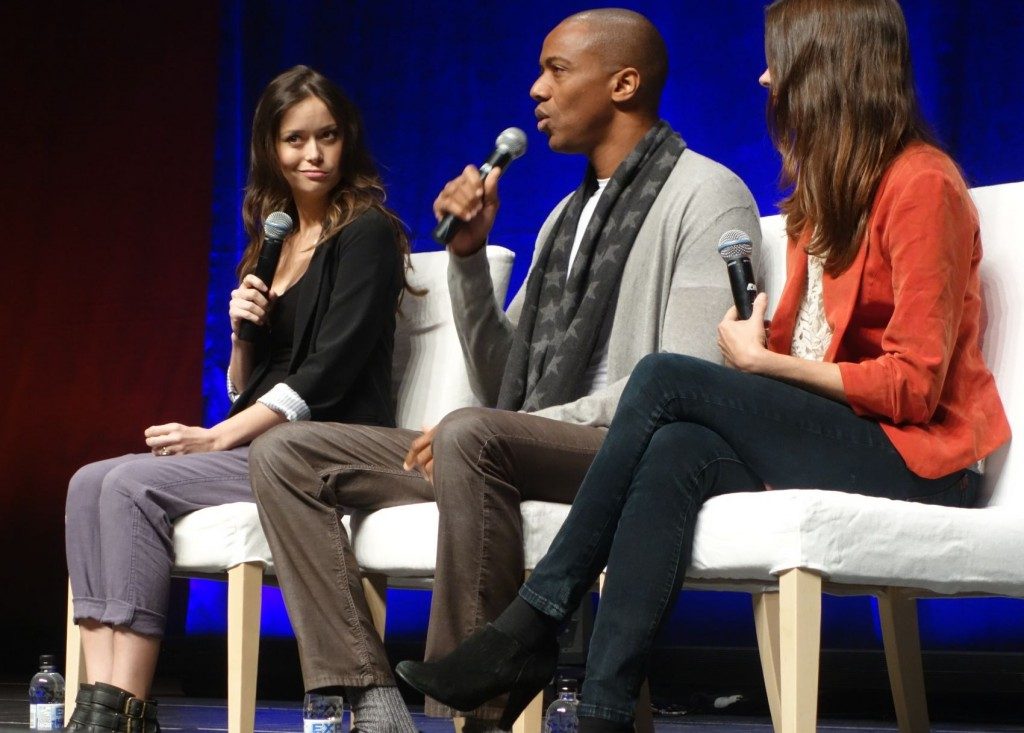 Edmonton, AB (Sunday, September 28),

10:00 pm MST

–
The third annual Edmonton Comic & Entertainment Expo (Edmonton Expo) concluded today in Edmonton, Alberta, Canada, after welcoming more than 47,000 fans over three days – a 20,000 increase over 2013. Attendance exceeded the expectations of show presenters, who estimated the show would attract 35,000, suggesting that Edmonton Expo's growth will be something to watch in the coming years. Presenters attribute the increase to a growing movement for people to embrace what makes them 'geeky', the expansion of the show to three days (adding
Friday
evening), increased exhibition space, and an attractive line up of workshops, panels, attractions, and invited guests.
"Edmonton Expo is actually growing at a faster rate than any of the other shows I work with, including the Calgary Expo. Edmonton is a proud nerdy city, and I can't wait to see how this show grows in the coming years," said Emily Expo, Edmonton Expo's host and spokesperson, who also represents Calgary Comic & Entertainment Expo, and Saskatoon Comic & Entertainment Expo. "The tremendous growth of this convention is a true testament of the passion and dedication of our fans, volunteers, exhibitors, and guests. We're so proud of how the nerd community has come together to create this fantastic event."
ABOUT EDMONTON EXPO
The 2014 Edmonton Comic & Entertainment Expo was held September 26-28 in Halls D,E,F,G and H at the Edmonton Expo Centre in Edmonton, Alberta, Canada. For more information and tickets, visit
edmontonexpo.com
. 
ABOUT THE COMIC & ENTERTAINMENT GROUP
2014 Edmonton Expo Guests: J. August Richards (Marvel's Agents of S.H.I.E.L.D., Angel), Simon Helberg (The Big Bang Theory, Dr.Horrible's Sing-Along Blog), Kanal Nayyar (The Big Bang Theory), Mads Mikkelsen (Hannibal, Casino Royale), Summer Glau (Firefly, Serentiy, Terminator: The Sarah Connor Chronicles), Amy Acker (Angel, Dollhouse, Person of Interest), Jim Beaver (Supernatural, Deadwood), Rachel Skarsten and Richard Howland (Lost Girl), Garret Wang (Star Trek: Voyager), Noah Wyle (Falling Skies, ER, Donnie Darko), Doug Jones (Falling Skies, Pan's Labyrinth), Raphael Sbarge (Once Upon A time, Mass Effect) Grant Imahara (Mythbusters, Star Trek Continues, The Guild), Jessica Nigri, Cosplay star, Dean Cain (Lois and Clark: The New Adventures of Superman), Lawrence Gillard Jr. (The Walking Dead), Dirk Benedict (The A-Team,  Battlestar Gallactica), Burn Gorman (Pacific Rim, Torchwood, Game of Thrones), and Dwight Schultz (The A-Team, Star Trek: The Next Generation, Princess Mononke). Voice Guests include: Dante Basco (Hook, Avatar: The Last Airbender, American Dragon: Jake Long), Brendan Hunter (Dragon Ball), Mark Meer (Mass Effect, Red Sand), Rino Romano (The Batman, Godzilla: The Series, Spider-Man Unlimited), and Jeremy Shada (Adventure Time, Team America: World Police, and Cloudy with a Chance of Meatballs).
SOURCE: Official Press Release (thank you Alex Kingcott, Expo Media)